Happy Self Care Saturday! Or if you're like me it's sports and yard work Saturday. I'm getting some flowers in the ground today, because the snow is hopefully done. We literally got a foot of snow on May 23. I wish I was kidding.
It's still mental health awareness month, so I want to pop in, talk about self care, and tell you some things that I do. I've covered self care before in a few ways. I've given guides and tips. Today I want to talk about mindless self care. I struggle with Borderline Personality Disorder, Anxiety, and Depression. My mind is constantly trying to derail itself with intrusive, and negative thoughts. It's like a machine that doesn't stop running, no matter what I do. Sometimes I really need to try and shut it off. I know this sounds crazy, but mindless comedy shows are my comfort blanket. I can really escape my brain and the awfulness that is the world with something totally silly.
It used to drive my husband nuts that I can't watch serious things before bed, but know that he understands my mind he enjoys my mindless shows too. Just because I say these shows are mindless, doesn't mean that they are brilliantly written, and great. These are quality shows.
Here is my list of mindless shows, when I need space from my own self:
1. Schitt's Creek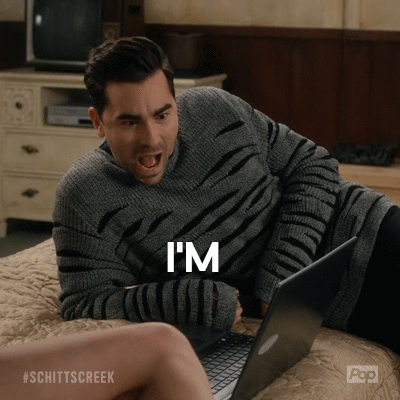 Dan Levy, the absolutely brilliant, hilarious, and genius son of Eugene Levy (The Dad from American Pie with the eyebrows) created this incredible show. It's so funny, charming, and makes you feel things you wouldn't expect. It's about a wealthy family who loses everything but one asset that was purchased as a joke, the town of Schitt's Creek. Moira (Catherine O'Hara whom we do not deserve) is a former soap opera star, and Johnny (Eugene Levy) and their two kids David (Dan Levy) and Alexis (Annie Murphy) have to learn how to live like normal people. David is so witty and hilarious that literally everything he says makes me laugh. The whole show is so well written that I could watch it over and over again. This is my current #1 favorite show, which I'm a die hard The Office fan, so that's saying something. This show will have you laughing, and doing the Moira voice forever. It's available on Netflix, so please go watch it. You'll be saying "EW DAVID!" in no time.
2. Bob's Burgers I know so many people don't enjoy adult cartoons, but Bob's Burgers is truly hilarious. Bob, Linda, and their 3 kids Tina, Gene, and Louise run a burger place on a pier. You get to see all of the antics that kids get into, Louise being my favorite for being a loud mouthed, fierce, bunny ear wearing Queen. Tina is a boy obsessed preteen who's monologues and songs make me cry from laughter. Gene is also funny, and writes Die Hard the musical. Linda is truly my mothering spirit guide, and Bob is literally everyones Dad.I promise if you give this show a chance, you'll laugh just as hard as I do. You can find it on Hulu.
3.The Office
If you haven't seen The Office get out. Just kidding, but seriously it's a great show. Michael Scott (Steve Carrell) and the Dunder Mifflin Paper Company are always doing hilarious things. Michael is the world's worst boss, but also the best. The story includes hilarious pranks, a beautiful love story, a affair, and murder in Savannah (if you haven't watched the show you don't get that reference.) You can find it on Netflix.
Also, it has John Krasinski who is the second from the top of my "fuck it" list.
4. Chuck
Chuck is a show about a nerd turned spy, due to basically a computer being loaded into his head. Zachary Levi (who is the tippity top of the "fuck it" list )plays Chuck, who is goofy, sweet, and insanely good looking. Sorry not sorry. This show isn't mindless, but it's a great escape for when I'm really struggling. I can get lost in the plot, while laughing. It's not one I can fall asleep too, but it's perfect for a Saturday afternoon. The characters are all so lovable, and you get hooked fast. It's available on Amazon Prime Video.
5.Parks and Recreation
This show holds a very special place in my soul. Amy Poehler is my hero, truly. So pair her up with Nick Offerman, Chris Pratt, Aubrey Plaza, Retta, Aziz Ansari, Rashida Jones, and so many more, it's incredible. The story follows a small town parks department and their characters. It's shot very similarly to the office. The deeper into the seasons you get, the funnier the show gets, It's beautiful written, and perfect to escape. Ron Swanson is the Dad you've always wanted. It is available on Netflix.